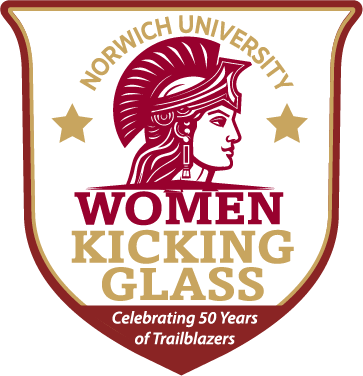 NU WOMEN KICKING GLASS: Celebrating 50 Years of Trailblazers
2024 marks the 50th anniversary of the first women to live on the Northfield campus and the first in the NU Corps of Cadets—a full two years before the federal service academies.
Show your pride in Norwich's trailblazing women, alumnae accomplishments and significant NU 'firsts' with these special, limited-edition items. Proceeds benefit the Women Kicking Glass Scholarship, helping the next generation of deserving young women attend Norwich.
https://alumni.norwich.edu/womenkickingglass
ALL ITEMS are PRE-ORDER only and will be produced and shipped AFTER the store closes on 30 OCTOBER. Please allow 6 weeks from the close date for items to start shipping.
Items will arrive in mid-December prior to the Holidays.
For a SIZE CHART please CLICK HERE.

ALL items purchased in this store are FINAL SALE. We only produce the items that are ordered and no additional items will be available for exchange.